Throughout civilization, storytelling and live theater have preserved history; uplifted, inspired, and provided a respite from troubled times. Of course, these days we have all sorts of distractions available, from streaming services to the black holes of social media posts. So why is live theater more important than ever?
Even before the pandemic, most Americans were spending more and more time relating virtually. We would text instead of calling and hearing a human voice. We would post on Social Media instead of sharing vacation stories and pictures in person. Carefully crafted letters to loved ones were replaced by following friends and family online. Granted, these new communication tools can be a wonderful way to keep in touch with scattered friends and family. But we are still apart, isolated. And this kind of communication tends to be an incomplete, "picture perfect" version of our lives.
When we gather for a live performance, however, our energies merge in a way no virtual form of entertainment can create. It's not just the shared experience, it's the shared energy exchange between artists and audience. It is palatable, visceral, and connective. It bonds us.
When we laugh until the tears roll down our cheeks, when we feel a communal sense of hope, when we are reminded of shared values and perhaps find new understanding, together we all become more than we were before. Even without knowing it, together we have formed a new bond — a new sense of community,
Now more than ever we need to find common ground. We need to remember how much more alike we are than all the global noise and unrest would suggest.
The Woodinville Repertory Theatre is proud – and has been proud since 1998 – to offer a creative and entertaining space that can bring us together and strengthen the connective tissue of our humanity that seems needed now more than ever.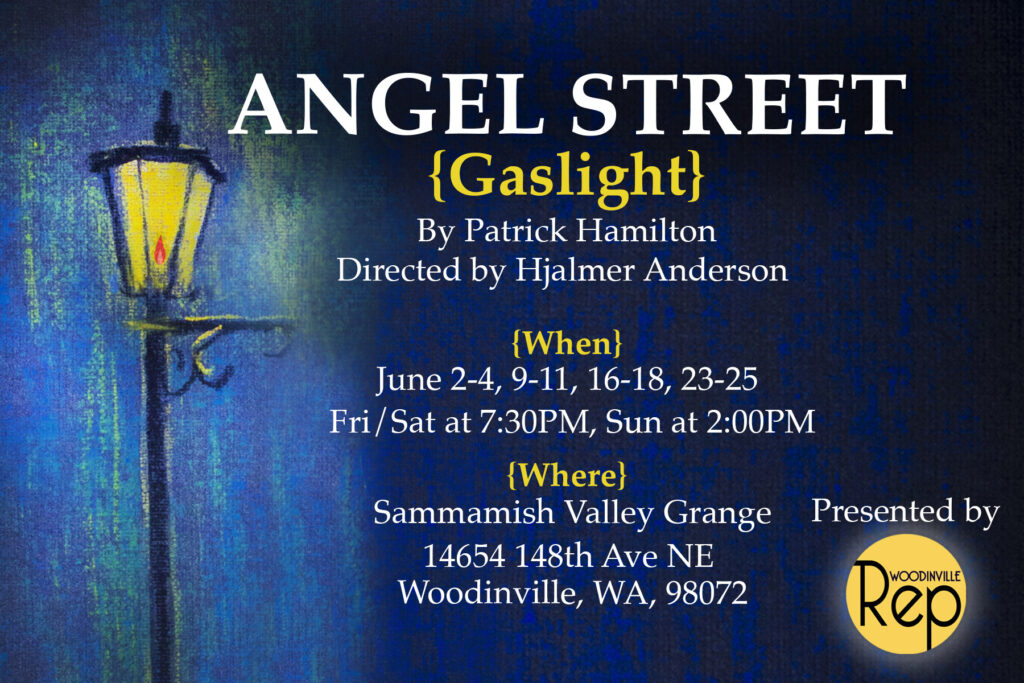 So, please join us for our spring production of the psychological thriller Angel Street, by Patrick Hamilton and directed by Hjalmer Anderson.
Our performances run on weekends starting June 2 and running through June 25 at the Sammamish Valley Grange, 14654 148th Ave. NE in Woodinville.
Friday and Saturday shows are at 7:30 p.m. and Sundays at 2 p.m.
You can buy tickets here, or at the door.