Dear Friends of Woodinville Repertory Theatre,
We are thrilled to announce that this year, 2023, marks a significant milestone in our journey – the 25th Anniversary Season of Woodinville Repertory Theatre. Since our inception in 1998, Woodinville Repertory Theatre has been dedicated to enriching the cultural life of our community by creating high-quality theater and stories that inspire our audience.
Our History and Peg Phillips' Vision
The Woodinville Repertory Theatre was founded by the late Peg Phillips, best known as Ruth-Ann Miller on the TV series "Northern Exposure." Peg's dream was to bring quality live theater that would appeal to audiences from across the Puget Sound region. Our first production, "I Hate Hamlet," set the stage for decades of outstanding theater experiences. We've performed classics like Agatha Christie's "The Mousetrap," comedies like Joseph Kesselring's "Arsenic and Old Lace," and heartwarming dramas like Beth Henley's "Crimes of the Heart."
During the pandemic, we adapted to the times and produced three online shows, including Shakespeare's "A Midsummer Night's Dream." Now, as we cap off our 25th season, we're excited to continue our tradition of excellence and bring you more captivating stories.
25th Anniversary Season's Final Show: "These Shining Lives"
This Fall we are proud to present "These Shining Lives," written by Melanie Marnich. This powerful play is based on the true story of four remarkable women who worked for the Radium Dial Company – a watch factory in Ottawa, Illinois. These women were hired to paint watch dials using glowing radium powder. Unbeknownst to them, radium was a highly toxic substance and the exposure to such would ultimately lead to their demise.
"These Shining Lives" recounts the story of their courage and serves as a testament to their strength as they fight not only for justice but for their own survival. It's a poignant reminder of a time when worker safety was often disregarded by employers. Directed by Juli Bacon, this production promises to be a moving exploration of industrial neglect and a tribute to the resilience of the human spirit.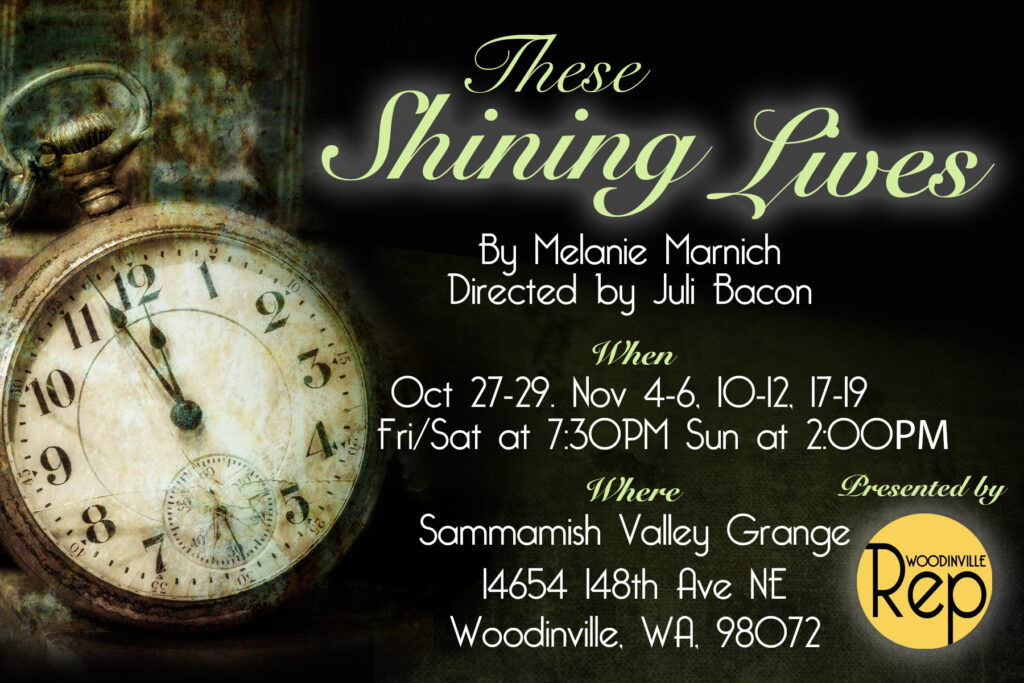 Show Dates:
October 27-29
November 3-5, 10-12, 17-19
Show Times:
Fridays and Saturdays: 7:30 PM
Sundays: 2:00 PM
We invite you to join us for this thought-provoking and inspiring production. Your attendance and support make it possible for us to continue bringing meaningful stories to life on our stage.
Get Involved: Volunteer with Us
As we celebrate our 25th season, we want to extend an invitation to you to become an integral part of our growing theater community. Woodinville Repertory Theatre thrives on the dedication and passion of volunteers. Whether you're interested in ushering, set design, marketing, or any other aspect of theater production, there's a place for you here. Your time and expertise helps us continue to create exceptional theatrical experiences.
Upcoming Opportunities to be Involved
Purchase your tickets today to "These Shining Lives" and experience this gripping story of resilience and justice.
Volunteer: Join our team and help us bring our productions to life. Your involvement makes a difference.
Support Our Mission: Your generous donations allow us to continue producing high-quality theater that enriches our community. Woodinville Repertory Theater is a 501(c)(3) non-profit organization, and as such, your contribution may be tax deductible.
We would like to thank 4Culture and our Season Sponsors: Emerald Self Storage, JB Consulting Systems, Vaulting Frogs Preschool and the Sammamish Valley Grange for their support of our mission!
Thank you for being a part of our journey. We look forward to celebrating our 25th Anniversary Season with you and many more years of exceptional theater.
Sincerely,
Heather Hendrix-McAdams
Board Member
Woodinville Repertory Theatre