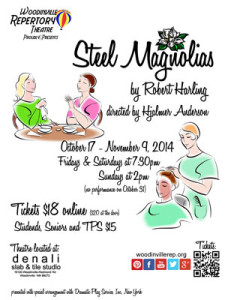 by Robert Harling
directed by Hjalmer Anderson
Buy Tickets Now!
October 17th through November 9th  Fridays and Saturdays at 7:30 pm, Sundays at 2 pm (Doors open 30 minutes before curtain time).
*Please Note* There is no show on Friday October 31st.
Woodinville Repertory Theatre is proud to present Steel Magnolias by Rober Harling.
A first play which met with immediate critical and popular acceptance in its premier production by New York's WPA Theatre. Concerned with a group of gossipy southern ladies in a small-town beauty parlor, the play is alternately hilarious and touching—and, in the end, deeply revealing of the strength and purposefulness which underlies the antic banter of its characters. "Harling has given his women sharp, funny dialogue…The play builds to a conclusion that is deeply moving." —NY Daily News. "…a skillfully crafted, lovingly evoked picture of eccentricity in the small-town South…Robert Harling is a new voice in the theatre and the qualities of STEEL MAGNOLIAS suggest he may be an important one." —Drama-Logue. "…suffused with humor and tinged with tragedy." —NY Post.
The action is set in Truvy's beauty salon in Chinquapin, Louisiana, where all the ladies who are "anybody" come to have their hair done. Helped by her eager new assistant, Annelle (who is not sure whether or not she is still married), the outspoken, wise-cracking Truvy dispenses shampoos and free advice to the town's rich curmudgeon, Ouiser, ("I'm not crazy, I've just been in a bad mood for forty years"); an eccentric millionaire, Miss Clairee, who has a raging sweet tooth; and the local social leader, M'Lynn, whose daughter, Shelby (the prettiest girl in town), is about to marry a "good ole boy." Filled with hilarious repartee and not a few acerbic but humorously revealing verbal collisions, the play moves toward tragedy when, in the second act, the spunky Shelby (who is a diabetic) risks pregnancy and forfeits her life. The sudden realization of their mortality affects the others, but also draws on the underlying strength—and love—which give the play, and its characters, the special quality to make them truly touching, funny and marvelously amiable company in good times and bad.
Stage Cast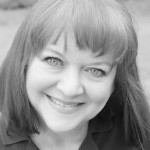 Susan Connors (Mlynn)
Susan Connors recently checked off a major bucket list role, playing Dolly in this summer's Twelfth Night production of Hello Dolly!  and also returned to her musical roots in StageRight's spring production of A New Brain at the Seattle Center.  WRT audiences may remember her 2 turns as the hot-flashing Honey Raye in the Texas Futrelle sisters comedies Dearly Beloved andSouthern Hospitality.   A company member at the Phoenix Theatre in Edmonds, she has also appeared locally with Schoolyard, Eclectic Theatre, Stone Soup, Woman Seeking Theatre, Open Circle, the Seattle Children's Theatre, the Bathhouse Theatre, and the Tacoma Actors Guild. TV credits include Archie Bunker's Place, Mrs. Columbo and Northern Exposure (Yes, it's been a while!). She is also a regular performer with the nationally syndicated radio drama series, Imagination Theatre, Sunday nights on KIXI.  Up next – returning to the Phoenix for their holiday production of Hallelujah Girls which coincidentally also takes place in a hair salon, a place Susan avoids in real life by doing her own hair (don't tell Truvy!).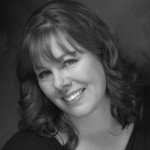 Tracey Cruz (Truvy)
Tracey graduated from Western Washington University with a degree in theater.  She has appeared in several Woodinville Rep shows.  Some roles include Twink in Dearly Beloved & Southern Hospitality, Mrs. Bradman in Blithe Spirit.  She reprised her role as Twink at The Phoenix Theater's production of Dashing Through the Snow.  She's fells blessed to have the privilege to work with such and amazing and supportive cast and director.  She would like to thank her family for all their support and devote this show to her Aunt Kathryn and dear friend John.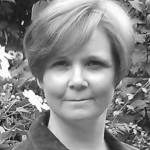 Anne Marie Lake (Clairee)
After watching various family members perform for years, Anne-Marie Lake is happy to be on stage herself with this delightful, hard-working and challenging cast. Typically on stage as a singer, favorite roles include the Mother in the opera Amahl and the Night Visitors, Zaneeta in Music Man, and Smerdyakov in The Idiots Karamazov. Previously Anne-Marie hosted two syndicated radio programs and sang with the Dickens Carolers. She works as an employment consultant, and in her spare time she volunteers through Rotary and is a choir director for her church. She and her husband have two adult daughters and one grandchild.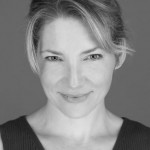 Juliet McGinnis (Shelby)
Juliet is thrilled to be a part of this Steel Magnolias cast. A relative newcomer to the Seattle theater scene, Juliet built a body of on-camera and theater work primarily in the New York and Boston areas. Most recent works includes Jet Blue to Heaven at SecondStory Repertory and the feature film Pacific Aggression. Juliet wants to thank her family and friends for their support and every day inspiration.
Allison Rae Tindall (Annelle)
Allison is pleased to making her Pacific Northwest debut with Woodinville Rep. Allison graduated from West Texas A&M University, with a BA in Performance Theatre. Previous work includes: Tartuffe, Fiddler on a Roof, and Unexpected Tenderness. Enjoy the Show!!!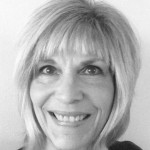 Melanie Workhoven (Ouiser)
Melanie is delighted to be back on the boards for her 14th Woodinville Repertory Theatre production and thrilled to play the insightful, if grouchy Ouiser. After attending Northwestern University, Melanie performed in Chicago and throughout the Midwest before relocating to Los Angeles, where she worked on stage as well TV and in major motion pictures. Not long after settling in Seattle she was given the opportunity to share in the creation of Woodinville's own theatre company. Favorite Woodinville Rep roles include Vera Charles in Mame, Kate in Brighton Beach Memoirs, Helga in Death Trap, and Nurse Ratched in One Flew Over the Cuckoo's Nest. She can frequently be heard as the voice of the Master Builders Association and is a performance coach in her spare time. Melanie was fortunate to be in Woodinville Rep's original production and has been involved as a performer, director and board member ever since. She would like to thank you for supporting Woodinville Rep and keeping Peg Phillips' dream of a Woodinville Theatre alive.
Stage Crew
Hjalmer Anderson (Director)
Hjalmer Anderson has been involved in theatre in the Pacific Northwest for over forty years as an educator and director. Currently, he is employed as Technical Director for the Northshore Performing Arts Center and is the Artistic Director for the Woodinville Repertory Theatre.
Hjalmer has directed over 200 productions in his career, including Same Time Next Year for the Second Story Repertory Theatre in Redmond, and the following plays for the Woodinville Rep: I Hate Hamlet, the musical Mame and Ken Kesey's One Flew over the Cuckoo's Nest, The Odd Couple (The Female Version), Noel Coward's Blithe Spirit, Prisoner of 2nd Avenue, Greater Tuna and Wally's Café. Tuna Does Vegas was his first production this year, and he is very excited to be bringing you Steel Magnolias to close the 2014 season.
Steve Cooper (Set and Light Design)
Steve is a local director and designer working for several of the regions fringe theater companies. In addition to Bold Grace, his most recent directing project is Burien Little Theater's production of Jesus Christ Superstar that will open in mid February. Prior to that, Steve has directed A Christmas Carol in Auburn, and Last of the Boys at Pierce College as a guest artist. Steve is the resident lighting designer for Theater Schmeater and the Northshore Performing Arts Center.
Mark Neumann (Sound Design)
Marsha Stueckle (Costumes)
Once again Marsha is delighted to costume for Woodinville Rep–her 10th show as costumer!  Steel Magnolias has been a blast from the past for her, since she was a hairdresser in the 80's and can completely relate to the styles and adornment of Truvy's salon. She hopes you enjoy Steel Magnolias as much as she did working with WRT's wonderful cast and crew. Blessings!
LeAnna Placencia (Prop Manager)
LeAnna is the prop manager for Steel Magnolias. This is her first play to be a part of at this theater. She has been part of the Inglemoor High School theater department working backstage for the shows. She would like to thanks Mrs. Stewart to helping her through high school and bringing this opportunity to her. LeAnna would like to say thanks to everyone who was a part of this show and to everyone who supported them. Enjoy the show!
Madison Penoyer (Props Assistant)
I'm very excited to be working with the Woodinville Rep on Steel Magnolias. I've been very busy working in stage production in grade school and middle school and now at high school I'm excited to learn even more about how a theater works.
 Carl Bryden (Stage Manager)
Carl Bryden is the stage manager for this production of Steel Magnolias. He has previously worked on many shows including, The Princess who had No Name, Law and Order: Fairy Tail Unit, and Darcy's Cinematic Life. This is his first production at Woodinville Repertory Theater and he hopes you enjoy the show.
Jenni Gardner (Assistant Stage Manager)
I attend woodinville highschool as a sophomore this year. I've been involved in minor school plays such as,  Darcy's Cinematic life; Law and Order: nursery rhyme unit and now I'm helping work on Steel Magnolias as the assistant stage manager.I am so excited that I had the opportunity to help out with this play, and id like to thank Mr.Butchart for recommending this play to me and Mr.Anderson for letting my have this job. So thanks!