2019 Season!
Come and join us for all the fun!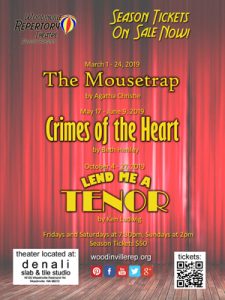 Here's the rundown of this years shows: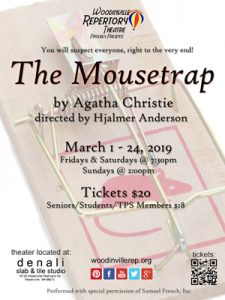 The Mousetrap
by Agatha Christie
March 1st through 24th, 2019
Fridays and Saturdays at 7:30pm, Sundays at 2pm
A timeless tale of "whodunit," Agatha Christie's The Mousetrap strands seven strangers at Monkswell Manor during a blizzard. But a police sergeant unexpectedly arrives, worried that a murderer-at-large is among the guests of the Manor. Before he can investigate, one of the guests is killed, starting an investigation into the lives and histories of everyone there. One of them is the killer, and another one of them may be next. Will the police be able to solve the case before another "mouse" falls? The world's longest continuously running play for over 60 years, The Mousetrap continues to delight and intrigue mystery lovers of all ages.
Crimes of the Heart
by Beth Henley
May 17th through June 9th, 2019
Fridays and Saturdays at 7:30pm, Sundays at 2pm
The three MaGrath sisters are back together in their hometown of Hazelhurst, Mississippi for the first time in a decade. Lenny, the eldest, never left Hazelhurst — she is the caretaker of the sisters' cantankerous Old Granddaddy. Meg, the middle sister, left home to pursue stardom as a singer in Los Angeles, but has, so far, only found happiness at the bottom of a bottle. And Babe, the youngest, has just been arrested for the murder of her abusive husband, Zackery Bottrelle. Under the scorching heat of the Mississippi sun, past resentments bubble to the surface and each sister must come to terms with the consequences of her own "crimes of the heart."
Lend Me A Tenor
by Ken Ludwig
October 4th through 27th, 2019
Fridays and Saturdays at 7:30pm, Sundays at 2pm
On a very important night for the Cleveland Grand Opera Company, Tito Mirelli, the world-famous Italian tenor, is set to perform the starring role in Otello. Henry Saunders — General Manager of the company — is beyond stressed about everything turning out right, and insists that his assistant, Max — a nervous, young fellow and secret tenor extraordinaire — watch over Tito's every move to ensure smooth sailing. After a huge fight with his fiery, Italian wife Maria, Tito receives a double dose of tranquilizers through a series of mishaps. Throw in Diana, an ambitious, female co-star; Maggie, Max's giddy girlfriend; Julia, a flirty head of the opera guild; and a meddling bellhop fighting for Tito's attention. Together, you have a recipe for comedic disaster. Max navigates the company through one catastrophe after the next — an angry wife, a presumed death, crazy costumes, secret sex romps, and loads and loads of slamming doors and mistaken identities — and, ultimately, takes on the role of Otello to great effect. Together, Max and Saunders find a way to save the Opera Company's big night in grand, farcical fashion.
---
Email confirmations & reminders
When you purchase your tickets, a confirmation will be sent immediately via email unless you request No Confirmation Email. A reminder will also be sent a few days before the show, unless you have opted out of receiving promotional email from us. Our software takes the "no email" command very seriously.
Group sales
We offer a discount of 10% on the price of Regular tickets for groups of 15 or more. Group discount cannot be combined with other discounts. Please contact us at tix@woodinvillerep.org to make arrangements.
House seating
Our tickets are General Admission, seating is determined on a First Come First Served basis. Due to the arrangement and number of seats in our theater, we are not able to accommodate reserved or group seating except under special circumstances.
---
Note about our theater:
We perform in a warehouse where it is hard to control the inside temperature.
If the outside temperature is under 50 degrees, we recommend having a jacket with you to keep the chill off.  We'll have some heaters running, but dress warmly for the show.
If the outside temperature is over 80 degrees, we encourage you to dress for summertime. We'll have some fans and cold drinks on hand to help you as well.