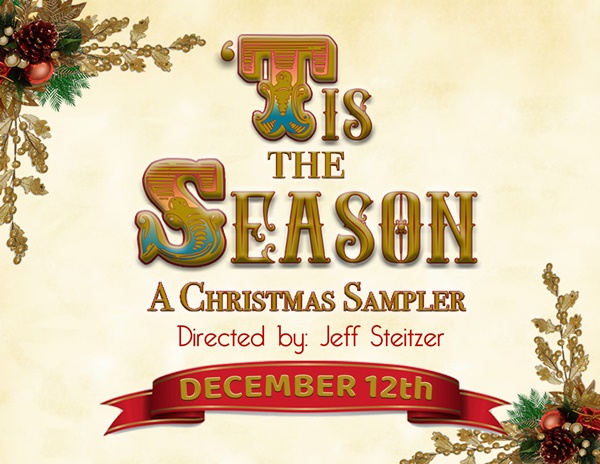 The Folks who brought us
'Tis the Season: A Christmas Sampler
The Woodinville Repertory Theatre is delighted to cheer up your holiday with our variety special Tis the Season: A Christmas Sampler. This charming collection of short stories, poems, and music was curated and guided by veteran Seattle director Jeff Steitzer.
Because we cannot be together in a theater space this year, we offer you a virtual production that you can enjoy in the safety and comfort of your home. We hope our holiday show will be an annual event, whether online or in person in the future.
Our cast and crew, excited to be making theatre again, had a grand time gathering via Zoom to rehearse, sing, laugh, and collaborate. Scroll down to read about the actors and artisans who crafted this heartfelt greeting for you. Enjoy!
Our Cast
Elizabeth Alm

Elizabeth (She/Her) is thrilled to be back at the Woodinville Rep. She appears as Peaseblosson in the Rep's Zoom production of A Midsummer Night's Dream. Other favorite roles include: Squolfie in The Fluffy Tale of Adventure  and Junie B. Jones in Junie B. Jones is Not a Crook, both at the  SecondStory Repertory Theatre and George Washington in Politically Motivated at Glass Iris Productions. Sending much love to our community during this crazy time. We are so grateful for you all and your continued support.
Keith Dahlgren

Keith Dahlgren (He/Him) has been involved in the Puget Sound theater community since 1978, when he graduated from Whitman College in Walla Walla with a degree in theatre. He has acted and directed for more than 25 companies in the area, including Bellevue Civic Theatre, Centerstage, Renton Civic Theatre, Phoenix Theater, Seattle Children's Theatre, Seattle Public Theater, Seattle Shakespeare Company, Tacoma Actors Guild, Unexpected Productions, Village Theatre, and Wooden O Theatre.
Caitlin Frances
Caitlin Frances (She/Her) has worked in the Greater Seattle Area with Live Girls!, Macha Theater, Village Theatre, Sound Theatre, Taproot, SMT, Arts West, SecondStory Rep, Centerstage, Harlequin, Seattle Public and many others. Favorite on stage roles include Fabianna in The Last Days of Judas Iscariot, Flora Crewe in Indian Ink, Sylvia in Sylvia, Ivy Weston in August: Osage County, Gwendolyn Pigeon in The Odd Couple, Kitty in The Drowsy Chaperone, and Mrs. Harville in Persuasion the Musical. Caitlin can be heard portraying Dena Rising in the radio series Phoenix Rising and sings in the Sugartime Trio with Meg McClinn and Kim McGuire.
Website: about.me/caitlin.frances
Tim Gouran

Tim is new to the Woodinville Rep and couldn't be happier about his debut! He has performed with many Seattle theatres including ACT, Strawberry Theatre Workshop, The Seattle Rep, Intiman Theatre,  Seattle Children's Theatre, New City Theater, Washington Ensemble Theatre, Theatre22 and Azeotrope Theatre. He got his start with The Guthrie Theatre in Minneapolis. He has appeared in several movies  and television episodes. He also has done many voice overs for radio and video games.
Antonio D. Mitchell

Antonio (He/Him) received his BFA in Musical Theatre from the University of Alabama at Birmingham (UAB). He is now a second-year MFA actor at the University of Washington. He is fairly new to Washington State and the Seattle area and is looking forward to being on a stage again. His most recent project would have been as the Emcee in a UW production of Cabaret. Sadly, it was cancelled. Though times are tough right now, he is grateful to still be able to create with other wonderful artists through this new virtual medium. Feel free to keep up with him through his social media!
Curt Simmons

Curt Simmons is an actor and award-winning audiobook producer/narrator. Curt is thrilled to contribute to the compassion and warmth of our precious holiday season along with such talented artists. 'Tis The Season is Curt's fourth appearance in Woodinville Rep productions, following California Suite, The Last Romance, and most recently as Oberon in WRT's Zoom production of A Midsummer Night's Dream. Recent Seattle roles also include Glenn in Wonder of the World, Mortimer in It Could Be Any One of Us. and Versati in The Underpants. Curt studies acting at Theater 9/12.
Benjamin Steitzer

Ben (He/Him) is delighted to be back at the Woodinville Repertory Theatre!  Recently, he played the role of Flute in the WRT's production of A Midsummer's Night Dream. He also writes and performs original comedy, either as part of the sketch duo Rascals or in solo performances.  He performed for SketchFest Seattle 2019 and the Virtual SketchFest Seattle 2020.
~~~~~~~~~~~~~~~~~~~~~~~~~~~~~~~~~~~~~~~~~~~~~~~~~~~~~~~~~
Our Crew
Jeff Steitzer, Director

Jeff has directed more than 170 professional productions in the course of his career. His productions have been seen at the Berkeley Rep, Arizona Theatre Company, Goodman Theatre, San Jose Rep., Oregon Shakespeare Festival, Court Theatre, Milwaukee Rep., Portland Center Stage and many more. In Seattle, he has directed at Seattle Rep., Bathhouse Theatre, Seattle Children's Theatre, Intiman, and ACT where he was Artistic Director from 1989 to 1994. He is also a busy actor, who has appeared on Broadway, in regional theaters across the country, in film and TV. His voice has been heard in countless commercials, in audiobooks and in various games, including Microsoft's HALO.
Mark Anders, Musical Director

Mark Anders is the musical director on 'Tis the Season. A Seattle native, he has been an actor since 1982, but his musical training has kept him nearly equally busy. He had a long stint touring in 2 Pianos 4 Hands; he created a successful Noël Coward revue, A Marvelous Party; and he has contributed lyrics to many musical projects. He music directs for Sing Out Seattle, a company introducing kids to performance. Maybe, with a Covid-19 vaccine widely available, he might once again be walking and talking and/or playing the piano on a stage near you. He'll need a new photo for that, as his hair (and teeth) are longer now.
Mike Hase, Video Editor

Mike (He/Him), who has edited our show, is primarily a stage hand/technician but often does design in his off time. Some works that he is especially proud of are the projection designs for Hamlet at Seattle Children's Theatre, Tomas & The Library Lady for Childsplay/SCT, and Love & Information at Seattle Pacific University. He is also proud of his scenic design for Ghosted for the Seattle Children's Theater Educational Theater Program, a collaboration with Kaiser Permanente. The show was an arts-based learning program that toured Washington schools last winter.
The Woodinville Repertory Theatre
Jane Ryan — Director and Artistic Director
Jane (she/her) is proud to serve as the Artistic Director of Woodinville Rep. She directed our virtual fall production of A Midsummer Night's Dream. Previously at the WRT, she directed Arsenic and Old Lace (2016), California Suite (2017), The Last Romance (2018) and Crimes of the Heart (2019). A professional actress and director, Jane has taught extensively in Seattle-area theatres and schools. Other favorite directing projects include A Streetcar Named Desire for SecondStory Rep, Pinocchio for Theater Schmeater, as well as Picasso at the Lapin Agile and The Book Club Play for Twelfth Night Productions.
Juli Bacon – Producer
Juli Bacon is the owner of several businesses in the Puget Sound Area. In addition to this show, she produced A Midsummer Night's Dream, assisted by Mari Cannon. Juli serves on the Woodinville Rep's board as Managing Director and Treasurer. She is a nationally recognized speaker, published author, and devoted mother of two, Sgt. James Bacon, former U.S. Marine and Seaman Jessica Bacon, U.S. Navy.
Christy Curino — Designer
Christy Curino (She/Her) spent 15 years as a fashion designer of apparel and accessories for the global market. She has recently returned to her roots in Woodinville and is thrilled to work with the Woodinville Repertory Theatre as both head costumer as well as a sitting board member.
Amanda Beckwith — Stage Manager
Amanda has been part of the filming industry since 2007. She has experience as a camera operator, production assistant, script supervisor, location manager, casting associate, assistant director, and assistant producer on a feature film. Amanda was the producer, assistant director and co-screenplay writer of a short film that won a first place Platinum Remi award at Worldfest-Houston International Film Festival. Amanda is also vice chair of the Woodinville Repertory Theatre board.
Matt Cruz — Website
Barbara Sandford — Illustrator
Mari Cannon — Marketing
Charley Blaine — Program
SPECIAL THANKS
Mark Anders
Julie Briskman
Vickielee Wohlbach
Carlo Curino
Colleen Carpenter-Simmons
Clark Sandford
Woodinville Repertory Theatre
Board of Directors
Charley Blaine, Chair
Juli Bacon, Managing Director & Treasurer
Amanda Beckwith, Vice Chair
Mari Cannon, Secretary
Melanie Workhoven
Christy Curino