by Neil Simon
directed by Jane Ryan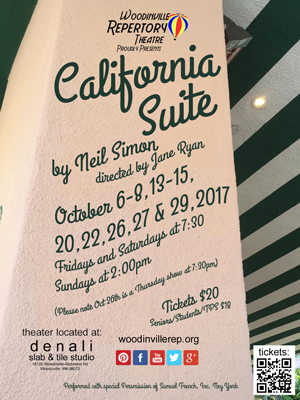 ***Note: This button will open a new window.***
Tickets for California Suite
California Suite tickets are $20 each,
$18 for seniors (65+), students and TPS members.
October 6-8, October 13-15; October 20 (Friday); October 22 (Sunday); October 26 (Thursday); October 27 (Friday) and Sunday, October 29, 2017
Thursday, Friday and Saturday shows at 7:30 p.m.
Sundays at 2 p.m.
Doors open 30 minutes before showtime.
Once again Neil Simon explores the drama (and comedy) that occurs in one hotel room. This time it's in California with four new uniquely flawed and fabulously funny visitors. A magazine writer, a cheating husband, a British film star preparing to attend the Academy Awards and two couples on a disastrous vacation. All of them are imbued with Simon's biting wit, and wonderfully compassionate insights into our hopes, dreams and frailties.