Tickets for The Nerd are on sale now!
***Note: This button will open a new window.***
Tickets for The Nerd
The Nerd tickets are $20 each,
$18 for seniors (65+), students and TPS members.
***Note: On April 16th, it is Buy One Get One Free day. When purchasing "Buy One Get One Free" tickets, select the number of tickets for the number of people coming. Discount will occur in multiples of 2.  Offer only good on April 16th show.***
April 14th – May 14  2017
Fridays and Saturdays at 7:30pm
Sundays at 2:00pm
Doors open 30 minutes before
Now an aspiring young architect in Terre Haute, Indiana, Willum Cubbert has often told his friends about the debt he owes to Rick Steadman, a fellow ex-GI whom he has never met but who saved his life after he was seriously wounded in Vietnam. He has written to Rick to say that, as long as he is alive, "you will have somebody on Earth who will do anything for you"—so Willum is delighted when Rick shows up unexpectedly at his apartment on the night of his thirty-fourth birthday party. But his delight soon fades as it becomes apparent that Rick is a hopeless "nerd"—a bumbling oaf with no social sense, little intelligence and less tact. And Rick stays on and on, his continued presence among Willum and his friends leading to one uproarious incident after another, until the normally placid Willum finds himself contemplating violence—a dire development which, happily, is staved off by the surprising "twist" ending of the play.
---
Note about our theater:
We perform in a warehouse where it is hard to control the inside temperature.
If the outside temperature is under 50 degrees, we recommend having a jacket with you to keep the chill off.  We'll have some heaters running, but dress warmly for the show.
If the outside temperature is over 80 degrees, we encourage you to dress for summertime. We'll have some fans and cold drinks on hand to help you as well.
---
Our 2017 Season Tickets are on sale now!
***Note: This button will open a new window***
2017 Season Tickets
Season Tickets are $50 per person
Can't wait to get started for your 2017 Season Tickets? Well you don't have to! Our season will include  The Nerd by Larry Shue in April, Butterflies Are Free by Leonard Gershe in June, and California Suite by Neil Simon in October.
When you purchase, choose the day of the weekend you'd like to attend.  We'll email you a reminder a few days in advance to verify you will be coming. If you need to make changes, reply to the email and we'll fix your day and confirm with you.
Upcoming Shows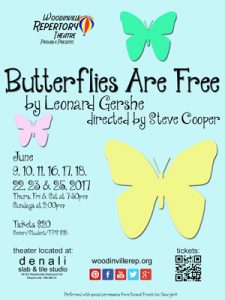 June 2017 – Butterflies Are Free by Leonard Gershe
Young Don Baker, hero of his mother's children's book series, "Donny Dark" has been blind since birth, his overprotective mother following his every move. Don finally decides to take his own apartment in Manhattan and pursue his songwriting ambitions. When she meets his kooky neighbor, sexy actress Jill, Mrs. Baker's controlling instincts go into overdrive with hilariously touching results.
"A lovely play. It is funny when it means to be, sentimental when it is so inclined, and heartwarming." – New York Daily News
"A charming play… humorous, winning and quietly moving." – New York Post
Show dates: Weekends of June 9-11 and June 16-18. Friday and Saturday shows at 7:30 p.m., Sundays at 2 p.m. Plus: Thursday June 22 at 7:30 p.m.; Friday June 23 at 7:30 p.m.; and a 2 p.m. matinee on Sunday, June 25.
October 2017 – California Suite by Neil Simon
It's a humorous confection divided into four parts: Visitor from New York , Visitor from Philadelphia , Visitors from London and Visitors from Chicago.
In Visitor from New York, Hannah, a magazine writer is joined by her ex-husband, the question being with whom should their daughter spend the next six months? The banter flies fast and furious but Hannah's well-wrought artifice crumbles as her fears take hold.
The Visitor from Philadelphia is a wife who arrives at the suite, catching her husband "en flagrante delicto" with a drunken hooker.
Visitors from London brings a British star as Academy Award nominee. Diana returns from the ceremony empty-handed to husband Sidney whose homosexuality will be no comfort tonight…
The Visitors from Chicago are two couples ending a disastrous vacation they should not have shared.
Neil Simon at his most humane, compassionate best.
Show dates: October 6-8; October 13-15; and October 20-22. Friday and Saturday shows at 7:30 p.m., Sundays at 2 p.m.
---
Theater Address!
The Woodinville Repertory Theatre's home is at the  Denali Slab & Tile Studio in Woodinville.  Denali is located in the Samammish Valley, near many of our  excellent local wineries! Our home is made possible by the generous invitation of Prem and Lily Gnanarajah the owners of Denali Slab & Tile. Please stop by and thank them for supporting live theater in Woodinville! Denali Slab & Tile Studio 16120 Woodinville Redmond Road NE, Suite 12 Woodinville, WA 98072 (Located behind Venetian Stoneworks). Have a question? Email us at tix@woodinvillerep.org.