Woodinville Rep Shopping Cart
Sylvia by A.R. Gurney on sale!
Woodinville Repertory Theatre is so VERY excited to be bringing Sylvia to our stage.
Pick your date and well send you email confirmation upon completed purchase.
You will receive an email confirmation from us and PayPal. Either of these will be your proof of purchase.
2016 Season Tickets are on sale now!
Become a Season Ticket holder for our 2016 season and save $9 per person. You can pick the show dates you want, and we'll work with you if you can't come to the same night for each show. Plus, we'll send reminders so you don't miss a performance.
Get your tickets now!
$45 
Pick your date, and when your purchase is completed,  you will receive email confirmation from us and from PayPal. Either will be your proof of purchase.
——————————————————–
March — Sylvia by A.R. Gurney
A modern romantic comedy about a marriage and a dog. "Dramatic literature is stuffed with memorable love scenes, but none is as immediately delicious and dizzy as the one that begins the redeeming affair in A.R. Gurney's new comedy, SYLVIA…" —NY Times. "I can only call it one of the most involving, beautiful, funny, touching and profound plays I have ever seen…" —NY Daily News. "Gurney's mad comedy is the most endearing good time to trot down the pike in many a moon. Howlingly funny…" —BackStage.
–
–
–
–
–
–
June — Plaza Suite by Neil Simon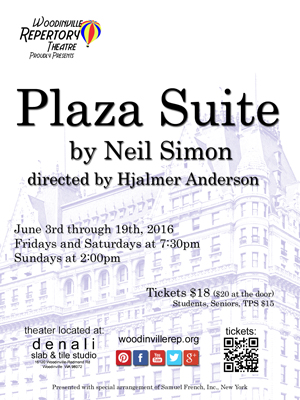 Hilarity abounds in this portrait of three couples successively occupying a suite at the Plaza. A suburban couple take the suite while their house is being painted and it turns out to be the one in which they honeymooned 23 (or was it 24?) years before and was yesterday the anniversary, or is it today? This wry tale of marriage in tatters is followed by the exploits of a Hollywood producer who, after three marriages, is looking for fresh fields. He calls a childhood sweetheart, now a suburban housewife, for a little sexual diversion. Over the years she has idolized him from afar and is now more than the match he bargained for. The last couple is a mother and father fighting about the best way to get their daughter out of the bathroom and down to the ballroom where guests await her or as Mother yells, "I want you to come out of that bathroom and get married!"
October — Arsenic and Old Lace by Joseph Kesselring 
Mortimer Brewster is living a happy life: he has a steady job at a prominent New York newspaper, he's just become engaged, and he gets to visit his sweet spinster aunts to announce the engagement. Mortimer always knew that his family had a bit of a mad gene — his brother believes himself to be Teddy Roosevelt and his great-grandfather used to scalp Indians for pleasure — but his world is turned upside down when he realizes that his dear aunts have been poisoning lonely old men for years! When Mortimer's maniacal brother, Jonathan. (who strangely now resembles Boris Karloff) returns on the night that the aunts were planning to bury the newest victim, Mortimer must rally to help his aunts and protect his fiancé — all while trying to keep his own sanity. as well. An uproarious farce on plays involving murder, Arsenic and Old Lace has become a favorite amongst regional theatres throughout America.
——————————————————–
The seating is open, but if you have special needs, please let us know and we'll make arrangements.
You will be emailed proof of purchase from us as well as a receipt from PayPal.
If you do not recieve the emails, please check your 'Junk Folder' in your email and if not there, email us (wrt@woodinvillerep.org) to verify your purchase went through.
————————————————————————-
*  *  *  *  *  *  *  *  *
Theater Address!
The Woodinville Repertory Theatre's home is at the  Denali Slab & Tile Studio in Woodinville.  Denali is located in the Samammish Valley, near many of our  excellent local wineries! Our home is made possible by the generous invitation of Prem and Lily Gnanarajah the owners of Denali Slab & Tile. Please stop by and thank them for supporting live theater in Woodinville! Denali Slab & Tile Studio 16120 Woodinville Redmond Road NE, Suite 12 Woodinville, WA 98072 (Located behind Venetian Stoneworks)