Tickets for The Skin Of Our Teeth are on sale now!
The Skin Of Our Teeth by Thorton Wilder
directed by Steve Cooper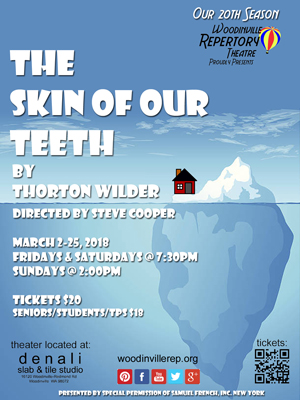 ***Note: This button will open a new window.***
Tickets for The Skin Of Our Teeth
The Skin Of Our Teeth tickets are $20 each,
$18 for seniors (65+), students and TPS members.
March 2nd through March 25th
Thursday, Friday and Saturday shows at 7:30 p.m.
Sundays at 2 p.m.
Doors open 30 minutes before showtime.
Thornton Wilder's last great play was THE SKIN OF OUR TEETH, is still timely today. Wilder dramatizes in the struggle of humankind to survive in a uniquely funny, yet thought-provoking way. As in his other plays, Wilder focuses on the family unit to make his point—in this case, the Antrobus (anthropos meaning story of humans) family living in Excelsior, New Jersey. Although the settings are contemporary, each act is structured around a historic catastrophe: the Ice Age, the Flood, and modern war. Respectively, humans must pit themselves against nature, the moral order, and, finally, themselves. Join us for this wild and very funny ride!
---
Email confirmations & reminders
When you purchase your tickets, a confirmation will be sent immediately via email unless you request No Confirmation Email. A reminder will also be sent a few days before the show, unless you have opted out of receiving promotional email from us. Our software takes the "no email" command very seriously.
Group sales
We offer a discount of 10% on the price of Regular tickets for groups of 15 or more. Group discount cannot be combined with other discounts. Please contact us at tix@woodinvillerep.org to make arrangements.
House seating
Our tickets are General Admission, seating determined First Come First Served. Due to the arrangement and number of seats in our theater, we are not able to accommodate reserved or group seating except under special circumstances.
---
Note about our theater:
We perform in a warehouse where it is hard to control the inside temperature.
If the outside temperature is under 50 degrees, we recommend having a jacket with you to keep the chill off.  We'll have some heaters running, but dress warmly for the show.
If the outside temperature is over 80 degrees, we encourage you to dress for summertime. We'll have some fans and cold drinks on hand to help you as well.
---
Theater Address!
The Woodinville Repertory Theatre's home is at the  Denali Slab & Tile Studio in Woodinville.  Denali is located in the Samammish Valley, near many of our  excellent local wineries! Our home is made possible by the generous invitation of Prem and Lily Gnanarajah, the owners of Denali Slab & Tile. Please stop by and thank them for supporting live theater in Woodinville! Denali Slab & Tile Studio is at 16120 Woodinville Redmond Road NE, Suite 12 Woodinville, WA 98072 (Located in the Riverfront Business Park, behind Venetian Stoneworks). Have a question? Email us at tix@woodinvillerep.org.