The Nerd
by Larry Shue
Directed by Hjalmer Anderson
Buy Tickets Now!
April  14 – 30, 2017 and May 12 – 14, 2017
Now an aspiring young architect in Terre Haute, Indiana, Willum Cubbert has often told his friends about the debt he owes to Rick Steadman, a fellow ex-GI whom he has never met but who saved his life after he was seriously wounded in Vietnam. He has written to Rick to say that, as long as he is alive, "you will have somebody on Earth who will do anything for you"—so Willum is delighted when Rick shows up unexpectedly at his apartment on the night of his thirty-fourth birthday party. But his delight soon fades as it becomes apparent that Rick is a hopeless "nerd"—a bumbling oaf with no social sense, little intelligence and less tact. And Rick stays on and on, his continued presence among Willum and his friends leading to one uproarious incident after another, until the normally placid Willum finds himself contemplating violence—a dire development which, happily, is staved off by the surprising "twist" ending of the play.
 *  *  *  *  *  *  *  *  *
Theater Address!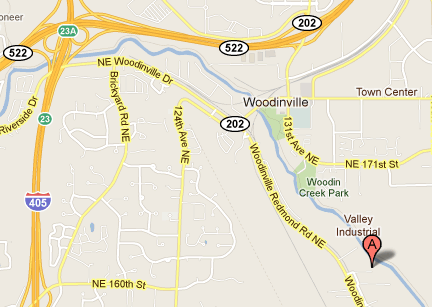 The Woodinville Repertory Theatre's home is at the  Denali Slab & Tile Studio in Woodinville.  Denali is located in the Sammamish Valley, near many of our  excellent local wineries! Our home is made possible by the generous invitation of Prem and Lily Gnanarajah,  owners of Denali Slab & Tile.
Please stop by and thank them for supporting live theater in Woodinville!
Denali Slab & Tile Studio
16120 Woodinville Redmond Road NE, Suite 12
Woodinville, WA 98072
(Located behind Venetian Stone Works)
Have questions about tickets? Email us at tix@woodinvillerep.org.