Butterflies Are Free
by Leonard Gershe
Directed by Steve Cooper
Buy Tickets Now!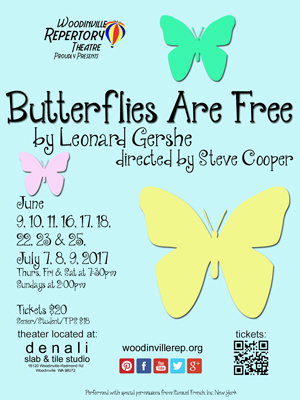 June 9, 10,11, 16, 17, 18, 22, 23 & 25, 2017 and
July 7, 8 & 9, 2017
Young Don Baker, hero of his mother's children's book series, "Donny Dark" has been blind since birth, his overprotective mother following his every move. Don finally decides to take his own apartment in Manhattan and pursue his songwriting ambitions. When she meets his kooky neighbor, sexy actress Jill, Mrs. Baker's controlling instincts go into overdrive with hilariously touching results.
"A lovely play. It is funny when it means to be, sentimental when it is so inclined, and heartwarming." – New York Daily News
"A charming play… humorous, winning and quietly moving." – New York Post
 *  *  *  *  *  *  *  *  *
Theater Address!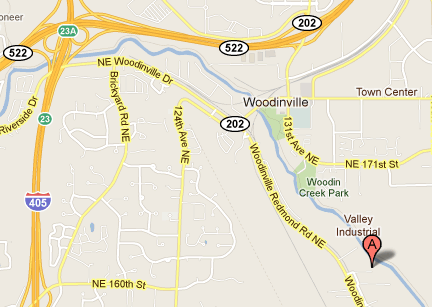 The Woodinville Repertory Theatre's home is at the  Denali Slab & Tile Studio in Woodinville.  Denali is located in the Sammamish Valley, near many of our  excellent local wineries! Our home is made possible by the generous invitation of Prem and Lily Gnanarajah,  owners of Denali Slab & Tile.
Please stop by and thank them for supporting live theater in Woodinville!
Denali Slab & Tile Studio
16120 Woodinville Redmond Road NE, Suite 12
Woodinville, WA 98072
(Located behind Venetian Stone Works)
Have questions about tickets? Email us at tix@woodinvillerep.org.