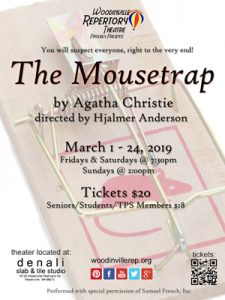 The Mousetrap
by Agatha Christie
***Note: This button will open a new window.***
The Mousetrap
March 1st through 24th, 2019
Fridays and Saturdays at 7:30pm, Sundays at 2pm
A timeless tale of "whodunit," Agatha Christie's The Mousetrap strands seven strangers at Monkswell Manor during a blizzard. But a police sergeant unexpectedly arrives, worried that a murderer-at-large is among the guests of the Manor. Before he can investigate, one of the guests is killed, starting an investigation into the lives and histories of everyone there. One of them is the killer; another may be next. Will the police be able to solve the case before another "mouse" falls? At 66 years, its London production is the world's longest continuously running play, The Mousetrap continues to delight and intrigue mystery lovers of all ages.
.
2019 Season Tickets are on sale now!
***Looking for the current show? Click here for our current show, The Foreigner***
Come and join us for all the fun!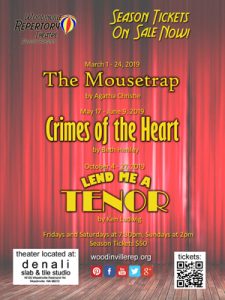 ***Note: This button will open a new window.***
2019 Season Tickets
2019 Season Tickets are $50 each available now!
Join us again this year for a fun filled season of live theater in Woodinville.
This years line up will leave you in stitches!
Here's the rundown of the rest of  this years shows:
Crimes of the Heart
by Beth Henley
May 17th through June 9th, 2019
Fridays and Saturdays at 7:30pm, Sundays at 2pm
The three MaGrath sisters are back together in their hometown of Hazelhurst, Miss., for the first time in a decade. Lenny, the eldest, never left Hazelhurst — she is the caretaker of the sisters' cantankerous Old Granddaddy. Meg, the middle sister, left home to pursue stardom as a singer in Los Angeles, but has, so far, only found happiness at the bottom of a bottle. And Babe, the youngest, has just been arrested for the attempted murder of her abusive husband, Zackery Bottrelle. Under the scorching the Mississippi summer heat, past resentments bubble to the surface, and each sister must come to terms with the consequences of her own "crimes of the heart."
Lend Me A Tenor
by Ken Ludwig

October 4th through 27th, 2019
Fridays and Saturdays at 7:30pm, Sundays at 2pm
On a very important night for the Cleveland Grand Opera Company, Tito Mirelli, the world-famous Italian tenor, is set to perform the starring role in Otello. Henry Saunders — General Manager of the company — is beyond stressed about everything turning out right, and insists that his assistant, Max — a nervous, young fellow and secret tenor extraordinaire — watch over Tito's every move to ensure smooth sailing. After a huge fight with his fiery, Italian wife Maria, Tito receives a double dose of tranquilizers through a series of mishaps. Throw in Diana, an ambitious, female co-star; Maggie, Max's giddy girlfriend; Julia, a flirty head of the opera guild; and a meddling bellhop fighting for Tito's attention. Together, you have a recipe for comedic disaster. Max navigates the company through one catastrophe after the next — an angry wife, a presumed death, crazy costumes, secret sex romps, and loads and loads of slamming doors and mistaken identities — and, ultimately, takes on the role of Otello to great effect. Together, Max and Saunders find a way to save the Opera Company's big night in grand, farcical fashion.
 *  *  *  *  *  *  *  *  *
Theater Address!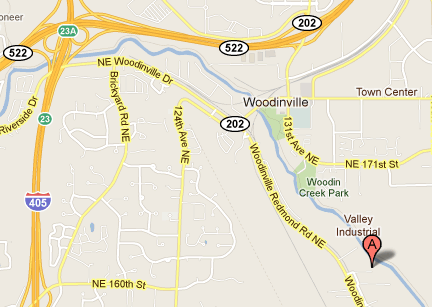 The Woodinville Repertory Theatre's home is at the  Denali Slab & Tile Studio in Woodinville.  Denali is located in the Sammamish Valley, near many of our  excellent local wineries! Our home is made possible by the generous invitation of Prem and Lily Gnanarajah,  owners of Denali Slab & Tile.
Please stop by and thank them for supporting live theater in Woodinville!
Denali Slab & Tile Studio
16120 Woodinville Redmond Road NE, Suite 12
Woodinville, WA 98072
(Located behind Venetian Stone Works)
Have questions about tickets? Email us at tix@woodinvillerep.org.