Lend Me A Tenor
by Ken Ludwig

October 4th through 27th, 2019
Fridays and Saturdays at 7:30pm, Sundays at 2pm
***Note: This button will open a new window.***
Lend Me A Tenor
On a very important night for the Cleveland Grand Opera Company, Tito Mirelli, the world-famous Italian tenor, is set to perform the starring role in Otello. Henry Saunders — General Manager of the company — is beyond stressed about everything turning out right, and insists that his assistant, Max — a nervous, young fellow and secret tenor extraordinaire — watch over Tito's every move to ensure smooth sailing. After a huge fight with his fiery, Italian wife Maria, Tito receives a double dose of tranquilizers through a series of mishaps. Throw in Diana, an ambitious, female co-star; Maggie, Max's giddy girlfriend; Julia, a flirty head of the opera guild; and a meddling bellhop fighting for Tito's attention. Together, you have a recipe for comedic disaster. Max navigates the company through one catastrophe after the next — an angry wife, a presumed death, crazy costumes, secret sex romps, and loads and loads of slamming doors and mistaken identities — and, ultimately, takes on the role of Otello to great effect. Together, Max and Saunders find a way to save the Opera Company's big night in grand, farcical fashion.
 *  *  *  *  *  *  *  *  *
Theater Address!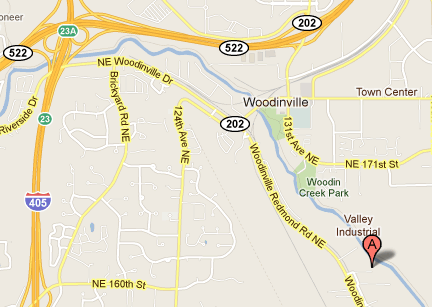 The Woodinville Repertory Theatre's home is at the  Denali Slab & Tile Studio in Woodinville.  Denali is located in the Sammamish Valley, near many of our  excellent local wineries! Our home is made possible by the generous invitation of Prem and Lily Gnanarajah,  owners of Denali Slab & Tile.
Please stop by and thank them for supporting live theater in Woodinville!
Denali Slab & Tile Studio
16120 Woodinville Redmond Road NE, Suite 12
Woodinville, WA 98072
(Located behind Venetian Stone Works)
Have questions about tickets? Email us at tix@woodinvillerep.org.