By Ashley Schalow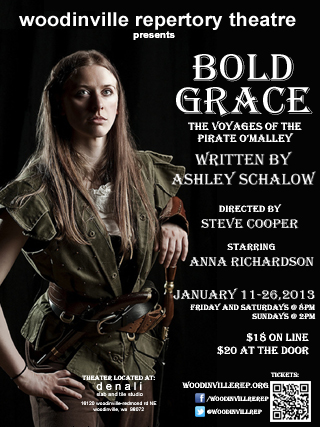 Directed by Steve Cooper
Performed by The Woodinville Repertory Theatre January 11-26, 2013 at Denali Slab & Tile Studio.
Here's the story:
This exciting full length one woman play is about the real life 16th Century female Irish clan chieftain and pirate; Grace O'Malley.
Bold Grace follows Grace's life and times. Beginning with her first voyage in her father's crew at the age of nine, Grace re-lives key points in her life until her death in 1603. Grace lived a full life, pirating around Ireland, England and Spain, commanding an army of 200 loyal fighting men, her own fleet of ships; she had two marriages, one lover, four children, and finally, a face to face documented meeting with England's Queen Elizabeth I.
This tour de force is written by Auburn based playwright Ashley Schalow and features Seattle actress Anna Richardson.
The play was entered and subsequently won first place/one act category in the Bill and Peggy Hunt Playwrights Festival produced by Burien Little Theatre in the 2010/2011 season. It ran for two weekends with Anna Richardson as Grace and Steve Cooper directing.
It was then requsted and further performed at the Auburn Ave Theater in May 2012 with the same cast and crew.
Stage Cast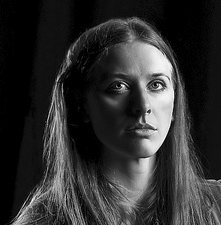 Anna Richardson (Grace O'Malley)