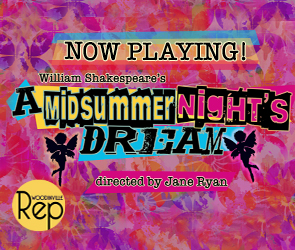 The Folks who brought us A Midsummer Night's Dream
The Woodinville Repertory Theatre is proud to offer its first virtual show to fans of theater in the Great Northwest, A Midsummer Night's Dream, as reimagined by director and artistic director Jane Ryan.
No show comes together by itself, however. Here are the cast, the crew and the supporters of the Woodinville Rep who helped make it all possible.
Our Cast

Adrian Cerrato — Theseus
Adrian Cerrato (he/him) appeared as the hopeful opera star Max in the Woodinville Rep's 2019 production of Lend Me a Tenor. Other previous productions include another production of A Midsummer Night's Dream in which he played all four lovers (Demetrius/Helena/Hermia/Lysander) at least once each, and Twelfth Night in which he played Antonio. He was also recently seen in an online reading of Ripcord as Scotty. Adrian earned his BA in Drama from the University of Washington.

Corey Lynn Atencio — Hippolyta
In her first production with the Woodinville Repertory Theatre, Corey Lynn Atencio (she/her) is excited to be performing in A Midsummer Night's Dream. She hopes that you enjoy the show. She also hopes that, even though we are all apart together, this play helps to take you away for a while!

Steven Sterne — Egeus
Steven (he/him) has worked with Washington Ensemble Theatre, The Horse In Motion, Annex Theatre, The 14/48 Projects, Twelfth Night Productions, TheatreMachine, Seattle Theatre Works, Live Girls!, GhostLight Productions, Penguin Productions, Seattle Jewish Theater Company, and more. He is pleased to be debuting with Woodinville Rep. Steven is a director and teaching artist. He is board chair with The 14/48 Projects. He and his wife, playwright Jennifer Dice, have 2 theatrical offspring.

Mari Cannon — Hermia
Mari (she/her) is thrilled to be returning to the Woodinville Repertory Theatre for their first virtual production. She has previously appeared in the WRT's productions of The Foreigner, The Nerd, and Arsenic and Old Lace. Previous favorite roles include Thomasina in Arcadia, Dotty Otley in Noises Off, and Gwendolyn in The Importance of Being Earnest. Mari has also served as assistant producer on this production and is a member of the WRT board. She hopes you enjoy the show, and thanks you for supporting the arts!

Nate McVicker — Demetrius
Nate McVicker (he/him) is elated to be doing theater even amid COVID! Favorite credits include Mamma Mia and Annie at the 5th Avenue Theatre, Million Dollar Quartet at Village Theatre in Issaquah, and The Unsinkable Molly Brown and Legally Blonde with Showtunes Theatre in Seattle. Follow his Instagram posts at @natemcv. Big thanks to Jane for finding artistic ways to tackle theatre in a socially distanced world!

Dylan Zucati — Lysander
Dylan (he/him) is a local actor, director and theater administrator pursuing classical work through a modern lens, whether that's using a framing device or the frame of your laptop. Prior to Covid, he worked with Book-It Repertory Theatre in Seattle as their front-of-house manager and was assistant directing a production of Romeo and Juliet through Somniterum Productions. More information and links to all of Dylan's resources can be found at itacuz.com.

Samantha Kalman – Helena
Samantha (she/her) is thrilled to return to the "stage" as Helena. Acting has been an occasional hobby while she's been working on her career in game design. Her last role of any notoriety was playing the wrestler "Um Jammer Sammy" for the League of Heels shows at PAX in Seattle and Boston. In her youth, she frequented Woodinville from Shoreline as a diligent martial arts student. She wants to thank the Woodinville Repertory Theatre, Jane, and the entire Midsummer cast for the joyous time she had playing in the show!

Bjorn Whitney — Peter Quince
Bjorn (he/him) is thrilled to be performing again with the Woodinville Repertory Theatre in this production of A Midsummer Night's Dream. He appeared in the WRT's 2018's The Foreigner. As an actor and director, Bjorn has worked up and down the I-5 corridor with Ghost Light Theatricals, Playlist Seattle, Shakespeare Northwest, Plot Hole Productions, and The Dinner Detective. Favorite past roles include Hamlet and King Lear (Shakespeare Northwest), The Foreigner (WRT), Through The Plot Hole (Plot Hole Productions), and Women Who Rock! (Playlist Seattle).

Ben Steitzer — Flute
Ben (he/him) is excited to be making his Woodinville Repertory Theatre debut! Past work includes the role of Sir Andrew in Twelfth Night for Twelfth Night Productions. Also, his sketch comedy duo Rascals performed for the 2019 SketchFest Seattle, and he contributed a solo piece to the 2020 StreamFest Seattle.

Drew David Combs — Snout
Drew (he/him) is an actor and playwright based in Seattle. He is a proud member of Parley Playwriting Group and a Cornish College of the Arts grad. He is stoked to be a part of this production of A Midsummer's Night Dream!

Gabriela Noble — Snug
Gabriela (she/her) is happy to be a part of A Midsummer Night's Dream! On stage, she has most recently been in Nevertheless, She Persisted with The Shattered Glass Project in Seattle and Twelfth Night with Twelfth Night Productions. Along with theater, she enjoys working as an actor in film, commercial, and voice over. Connecting with other creatives during this interesting time has been a great experience, and she looks forward to more creative, experimental projects in the near future!

Matthew Fisher – Starveling
Matthew Fisher (he/him) is proud to return to the Woodinville Repertory Theatre in A Midsummer Night's Dream. You may have seen his appearance in the 2019 WRT production of Agatha Christie's The Mousetrap. As a fan of classical theater, Matthew is excited to perform his first Midsummer. Thanks to Jane Ryan for her continued trust and support over the years.

Sara Geiger — Nick Bottom
Sara Geiger (she/them) is a Seattle-based actor, singer, improviser, writer, and all-around badass. You might have seen her in Netflix's American Vandal, Theater Schmeater's Pinocchio (also directed by the incredible Jane Ryan), 18th & Union's Wormwood, or Jet City Improv's Wretched Events. Sara is thrilled to make her debut with the Woodinville Rep and hopes you enjoy the show!

Elizabeth Alm –Peaseblossom
Elizabeth Alm (she/her) is thrilled to be making her Woodinville Repertory Theatre debut! Never has so much midsummer fun been found zooming around this virtual magical world. Lulla lulla lullaby. Yay theatre!

Valerie Ryan Miller – Mustardseed
Valerie Ryan Miller (she/her) is delighted to be making her virtual debut with the Woodinville Rep during these unusual times. A PNW transplant via New York City, Valerie attended Barnard College and appeared in lots of strange experimental theater at La MaMa, P.S. 122, and Dixon Place, all in New York. Recent regional productions include Robin Hood: A British Panto (Centerstage Theatre) and The Producers (Lakewood Playhouse), as well as Shakespeare in Love and Vanya & Sonia & Masha & Spike at Tacoma Arts Live. Valerie is a current fellow of the Lucid Body Institute in New York.

MJ Daly — Puck
MJ (she/her) is incredibly excited to be making her Woodinville Repertory Theatre debut! She was last seen in this GreenStage's online production of The Tempest. Over the years, she has attended the Kennedy Center American College Theatre Festival Region 7 and participated in the Irene Ryan and Musical Theater Scholarship auditions. In 2019, she advanced to the Irene Ryan finals, and won the MTSA Region 7 to attend the National Festival as a musical theatre fellow. She hopes you enjoy this unique production and to see you next summer! She sends her love and encouragement to help you through the storm we are all going through.

Curt Simmons — Oberon
Curt (he/him) is grateful and delighted to make his Shakespearean debut in this pandemic-relieving and unexpected treasure of A Midsummer Night's Dream. This is Curt's third appearance in a WRT show, following 2017's California Suite and 2018's The Last Romance. Recent roles include Glenn in Wonder of the World, Mortimer in It Could Be Any One Of Us, and Versati in The Underpants. He is also an award-winning audiobook producer/narrator.

Melanie Workhoven — Titania
Since appearing in the first Woodinville Rep production in 1998, Melanie (she/her) has worked with the WRT both on stage and behind the scenes. This is her 23rd appearance in a WRT show. Favorite stage roles include: Vera Charles in Mame, Nurse Ratched in One Flew Over the Cuckoo's Nest. Anna Livia Plurabelle in James Joyce's Finnegans Wake, and Eleanor of Aquitaine in The Lion in Winter. Melanie's television and film credits include roles with Mary Tyler Moore, Martin Mull, Ken Howard, Peter Boyle, Michael Keaton, Sylvester Stallone, and Robert Guillaume. She is excited to be part of WRT's first virtual production and thanks you for your continuing support.
Our Crew
Jane Ryan — Director and Artistic Director
Jane (she/her) is proud to serve as the new Artistic Director of Woodinville Rep, where she previously directed Arsenic and Old Lace (2016), California Suite (2017), The Last Romance (2018) and Crimes of the Heart (2019). Jane is a professional actress and director, and she has taught extensively in Seattle-area theatres and schools. Other favorite directing projects include Streetcar Named Desire for SecondStory Rep, Pinocchio for Theater Schmeater, and The Book Club Play for Twelfth Night Productions. Jane would like to thank the actors, crew, and the WRT board for all their hard work and generosity of spirit as we created this grand experiment!

Christopher Kidder-Mostrom — Editor
Christopher (he/him) is thrilled to be working with the Woodinville Repertory Theatre on this production. He recently relocated to the Pacific Northwest from the Midwest where he worked as a theatre professional for more than two decades. Chris is a playwright, director, actor, and literary translator of 19th century Spanish dramas. He also is a sound designer, graphic designer, and video editor. His degrees are a BA in Theatre Arts and Political Science from Morningside College in Iowa and an MFA in Playwriting from the University of New Orleans. When not doing theatre, Chris is the publisher and editor-in-chief of Diecast Racing Report magazine.

Juli Bacon – Producer
Juli Bacon is the owner of several businesses in the Puget Sound Area and has produced A Midsummer Night's Dream assisted by Mari Cannon. Juli is thrilled to combine her love of the stage with her business knowledge as Producer for A Midsummer Night's Dream. Juli serves on the Woodinville Rep's board as the Treasurer and Managing Director. Bacon is a nationally recognized speaker, published author, and devoted mother of two, Sgt. James Bacon, former U.S. Marine and Seaman Jessica Bacon, U.S. Navy.
Charlie Sandford — Composer
Charlie Sandford, aka Charlest0n (he/him), is a music composer and producer from the Seattle area. Most recently, he released his 'Parachute EP' which is currently available on all digital streaming platforms. He received his BA in Musical Composition & Song Writing from McNally-Smith College of Music. Charlie has also appeared on stage in Strawberry Theater Workshop's "This Land: a tribute to Woody Guthrie." He is excited
to work with the Woodinville Rep for the first time. He also wants to thank his parents for their support and for keeping him around the theater community. Follow his music at:
Instagram: @charlest0n_music / Facebook: @Charlest0nMusic

Christy Curino — Designer, Costumer
Christy Curino (she/her) spent 15 years as a fashion designer of apparel and accessories for the global market. She has recently returned to her roots in Woodinville and is thrilled to work with the Woodinville Repertory Theatre as both head costumer as well as a sitting board member. She and her daughter Frankie also appear in our show, respectively, as Votress and Changeling Child.

Amanda Beckwith – Legal and locations
Amanda has been part of the filming industry since 2007. She has experience as a camera operator, production assistant, script supervisor, location manager, casting associate, assistant director, and assistant producer on a feature film. Amanda was the producer, assistant director and co-screenplay writer of a short film that won a first place Platinum Remi award at Worldfest-Houston International Film Festival. Amanda is a member of the Woodinville Repertory Theatre board and is excited to use her filming experience in the theater.
Sandro Menzel and Sara Geiger — Photography
Matt Cruz — Website
Charley Blaine — Program
SPECIAL THANKS
Chateau Lill: Stacy Lill, and Robbi Hedger
Winsome Trading: Kelly Cramer, Scott Chow, Anita Tsoi, and Yu Ling Du
Bob's Heating: Gabby Roppo
Elegant Details: Sydney and Kelly Gasparich
Northwest Woodworks: Sean Watson
McLendon Hardware, Woodinville: Issac Spice
Miracle Carpet: Greg Wilkinson
Molbaks: Beau Fong
Cloth Tattoo/Patchworks: Dave Vance
Lenore & Dick Bensinger
Lee Ann Hittenberger
Charlotte Myers
Woodinville Chamber of Commerce
Woodinville Repertory Theatre
Board of Directors
Melanie Workhoven, President
Juli Bacon, Managing Director & Treasurer
Amanda Beckwith, Secretary
Charley Blaine
Christy Curino
Mari Cannon